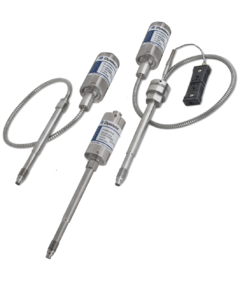 MDA 460 - Sensor with rigid stem
MDA 462 - Sensor with rigid stem and flexible stem
TDA 463 - Combined sensor with rigid stem, flexible stem and built-in temperature sensor

The sensors of this 46X series are specific with a 6-pin bayonet connector and an accuracy of ±0.5% of the pressure range. Power supply via 10-12 V DC. Membrane made of 15-5 PH material and coated with the DyMAX layer. The length of the rigid stem and the flexible capillary can be optionally configured.